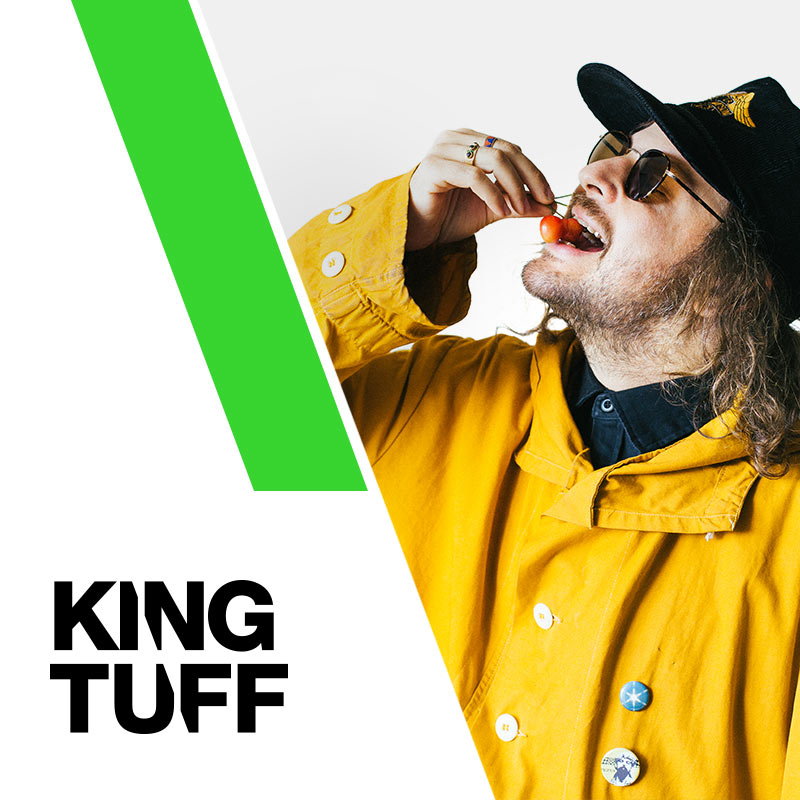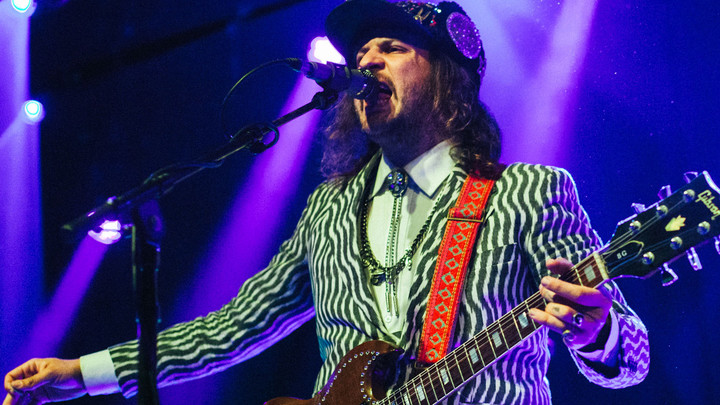 Watch King Tuff perform 'Psycho Star' from The Independent in San Francisco.

Multi-faceted rocker Kyle Thomas a.k.a. King Tuff just released his fourth album, The Other. Check out his performance of 'Psycho Star', a trippy piece of psych-funk.

The crowd erupted as King Tuff, dressed to the nines in a well-tailored squiggly black and white striped suit, a bolo tie, and a heavy Cuban link chain, sauntered on stage and flashed a brief smirk. His insulated ear flap cap, bejeweled with treasures and patches that look to have been collected over a multitude of worldly adventures, sat over his mop of disheveled hair fittingly like a king's crown. Only this king was to reign supreme over his subjects with a trusty axe slung over his shoulder as an enforcer.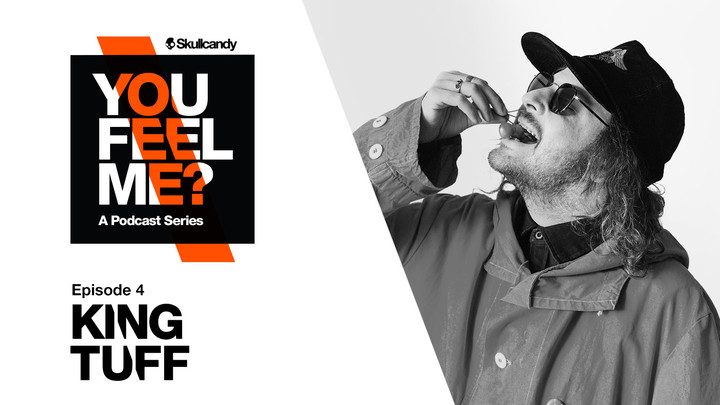 Tuff performed his new record The Other in order, and it starts slowly with the sprawling six minute build of the title track. It's a sparse and contemplative song, concentrated more on lyrics than the monstrous riffs King Tuff has become known for over the years. As the mood was set, and "The Other" came to a close, the groovy bass line of "Raindrop Blue" started and the crowd started to stir. There was a palpable excitement in San Francisco's Independent, the party was about to start.

It's surprising to see what King Tuff can make a guitar do. The riff on 'Raindrop Blue' is distorted to the point it sounds like a crunchy kazoo on the recording, but in a live setting watching him step on pedals and twist knobs to get into the tone zone is like watching an alchemist tinker in the lab. A truly impressive live act. After the four-minute dance party, the mood switches again as he makes his guitar cry on one of the emotional centerpieces of the the record, "Thru The Cracks." It's upbeat and sprawling in scope, but somber in topic as he pays homage to a fallen comrade.

I spoke with King Tuff pre-show for our You Feel Me? podcast. Check out the full interview.

Watch the Podcast
Watch the entirety of King Tuff's live performance from The Independent in San Francisco.

After a relatively long hiatus, and such a big switch in style and sonics, many artists might fear losing their base and having to deal with long time fans being counterintuitively disheartened by the commendable artistic growth. This wasn't the case with King Tuff. The following he's garnered over the years was clearly along for the ride and with him every step of the way as he continued his live journey through The Other.